What is Fortune?

Fortune is a feature that will help players acquire Limited Eromons and several items, including valuable items like monster gems and reprint ticket. Fortune is firstly introduced on 13 November, the same date as the Huge Breasts Extravaganza Event Began.
The Fortune Icon is located under the Ranking Box in the upper right of the screen. Player can also access it from Menu button.
The Fortune is from Unmo shrine where Yurika Yasaka is the one in charge of it.
How to Play
To play Fortune, a player needs an item called Fortune Ticket. Each fortune ticket will reward the user a eromon/item in the fortune list randomly. Maximum 10 Fortune Tickets can be played in one try.
There are several ways to get Fortune Ticket known in the game.
Exchanging Fairies
First time introduced in the game, players can get a Fortune Ticket by exchanging 20 fairies for one.
The second time the fortune is up, it cost 100 fairies. During the Sorry for the Beheading! Event however this method is not available.
Purchasing Stamina Pack
By purchasing Stamina Pack, a player can get 3 Fortune Tickets as bonus. Stamina pack cost 1,000 Nutaku Gold, it consists of 10+1 Stamina Potion.
Purchasing Monster Gem Pack
By purchasing Monster Gem Pack, a player can get 10 Fortune Tickets as bonus. Monster Gem Pack costs 3,000 Nutaku gold and it consists of 11 Monster Gem + 1 USDD Banana.
Drop From Boss
In the Sorry for the Beheading! Event, a new method of getting Fortune Ticket is introduced. This item will be a drop from an event boss when a player clears it. The amount of the drop is as follow:
Stages 4,8 and 12: 1 Fortune Ticket
Stage 13 Intermediate: 2 Fortune Tickets
Stage 14 Advanced: 3 Fortune Tickets
Stage 15 Special: 5 Fortune Tickets
Additionally, rare eromons will drop 20 Fortune Tickets in a run.
In a 3x mode run, the Fortune Tickets acquired are tripled.
Reward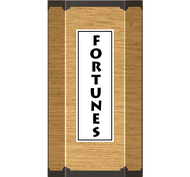 The reward of Fortune are mostly Alchemy gems and items, while the best reward will be Limited Eromon. Grab them before they're gone.
Below are list of the Limited Eromons as the reward.
Community content is available under
CC-BY-SA
unless otherwise noted.