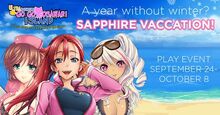 A whole year without winter?! Sapphire Vacation is an EP (Ero Point) farming type/ranking type event that is scheduled to run from 09/25/2015 until 10/09/2015.
The event consists of 3 areas, each containing 15 different stages, with each stage containing a myriad of Eromon to catch.
The event took place again for a second time from 07/12/2016 until 20/12/2016.
List of Stages
Event Area 1
Event Area 2
Event Area 3
Unlit Firefly 1-4
Required Stamina: Stage 1-3: [6]; Stage 4: [8]
Number of Waves: [5]
Wild Eromon
Eromon Level
EP Given
Capture Rate
Mitarai Yayoi
3
13
54%
Darys
3
15
49%
Stella (Stage 3)
6
17
12%
Hotaruko (Stage 4)
9
23
-
A Wonderful Place 1-4
Required Stamina: Stage 1-3: [7]; Stage 4: [9]
Number of Waves: Stage 1-3: [5]; Stage 4: [6]
Wild Eromon
Eromon Level
EP Given
Capture Rate
Mitarai Yayoi
7
15
56%
Darys
8
17
51%
Jaime
14
18
45%
Stella (Stage 2)
15
18
14%
Aizawa Misaki (Stage 3)
16
18
20%
Hotaruko (Stage 4)
18
24
-
Hero of the Shadows 1-4
Required Stamina: Stage 1-3: [8]; Stage 4: [10]
Number of Waves: Stage 1-3: [5]; Stage 4: [6]
Wild Eromon
Eromon Level
EP Given
Capture Rate
Mitarai Yayoi
12
18
57%
Darys
12
20
54%
Jaime
19
21
48%
Stella (Stage 2)
21
23
17%
Aizawa Misaki (Stage 2)
21
23
22%
Arieru (Stage 3)
22
24
19%
Hotaruko (Stage 4)
26
27
-
Hotaruko - Intermediate
Required Stamina: 12
Number of Waves: 6
Wild Eromon
Eromon Level
EP Given
Capture Rate
Mitarai Yayoi
26
37
59%
Yuki Haruno
36
41
44%
Darys
26
38
56%
Jaime
35
40
49%
Stella (Wave 5)
39
40
19%
Aizawa Misaki (Wave 5)
39
40
24%
Arieru (Wave 5)
40
43
20%
Hotaruko (Wave 6)
44
54
8%
Hotaruko - Advanced
Required Stamina:15
Number of Waves: 6
Wild Eromon
Eromon Level
EP Given
Capture Rate
Mitarai Yayoi
30
58
61%
Darys
31
62
65%
Jaime
38
65
50%
Stella (Wave 5)
41
66
20%
Aizawa Misaki (Wave 5)
41
68
25%
Arieru (Wave 5)
43
69
22%
Hotaruko (Wave 6)
52
77
8%
Hotaruko - Special
Required Stamina: 30
Number of Waves: 6
Wild Eromon
Eromon Level
EP Given
Capture Rate
Mitarai Yayoi
33
151
64%
Darys
34
155
68%
Yuki Haruno
38
162
49%
Jaime
38
158
52%
Stella (Wave 5)
41
180
22%
Aizawa Misaki (Wave 3)
42
180
26%
Arieru (Wave 1)
45
180
23%
Hotaruko (Wave 6)
57
250
8%
Rare Eromon
Rewards
No.
Total EP
Reward
No.
Total EP
Reward
1.
300
Limited Mini Stamina x3
65.
170,000
Green Gem [★3] x100
2.
500
Cash x1,000
66.
180,000
Yellow Gem [★3] x100
3.
1,000
Red Gem [★1] x100
67.
190,000
Blue Gem [★3] x100
4.
1,500
Green Gem [★1] x100
68.
200,000
Limited Mini Stamina x5
5.
2,000
Yellow Gem [★1] x100
69.
220,000
Red Gem [★3] x200
6.
2,500
Blue Gem [★1] x100
70.
240,000
Green Gem [★3] x200
7.
3,000
Limited Mini Stamina x3
71.
260,000
Yellow Gem [★3] x200
8.
5,000
Special Tome [★1] x1
72.
280,000
Blue Gem [★3] x200
9.
6,000
Red Gem [★1] x200
73.
300,000
Special Tome [★1] x1
10.
7,000
Green Gem [★1] x200
74.
320,000
Red Gem [★3] x300
11.
8,000
Yellow Gem [★1] x200
75.
340,000
Green Gem [★3] x300
12.
9,000
Blue Gem [★1] x200
76.
360,000
Yellow Gem [★3] x300
13.
10,000
R or Higher Ticket x1
77.
380,000
Blue Gem [★3] x300
14.
12,000
Red Gem [★1] x300
78.
400,000
Limited Mini Stamina x5
15.
14,000
Green Gem [★1] x300
79.
420,000
Red Gem [★3] x500
16.
16,000
Yellow Gem [★1] x300
80.
440,000
Green Gem [★3] x500
17.
18,000
Blue Gem [★1] x300
81.
460,000
Yellow Gem [★3] x500
18.
20,000
Limited Mini Stamina x3
82.
480,000
Blue Gem [★3] x500
19.
22,000
Red Gem [★1] x500
83.
500,000
Hinata Natsumi (SL)
20.
24,000
Green Gem [★1] x500
84.
525,000
Red Gem [★3] x500
21.
26,000
Yellow Gem [★1] x500
85.
550,000
Green Gem [★3] x500
22.
28,000
Blue Gem [★1] x500
86.
575,000
Yellow Gem [★3] x500
23.
30,000
Cash x2,000
87.
600,000
Blue Gem [★3] x500
24.
32,000
Red Gem [★1] x1000
88.
625,000
Red Gem [★3] x750
25.
34,000
Green Gem [★1] x1000
89.
650,000
Green Gem [★3] x750
26.
36,000
Yellow Gem [★1] x1000
90.
675,000
Yellow Gem [★3] x750
27.
38,000
Blue Gem [★1] x1000
91.
700,000
Blue Gem [★3] x750
28.
40,000
Special Tome [★2] x1
92.
750,000
Sexy-Scenes Guaranteed Ticket x1
29.
42,000
Red Gem [★2] x100
93.
800,000
Red Gem [★3] x1000
30.
44,000
Green Gem [★2] x100
94.
850,000
Green Gem [★3] x1000
31.
46,000
Yellow Gem [★2] x100
95.
900,000
Yellow Gem [★3] x1000
32.
48,000
Blue Gem [★2] x100
96.
950,000
Blue Gem [★3] x1000
33.
50,000
R or Higher Tickets x2
97.
1,000,000
Special Tome [★2] x1
34.
52,000
Red Gem [★2] x200
98.
1,050,000
Red Gem [★3] x500
35.
54,000
Green Gem [★2] x200
99.
1,100,000
Green Gem [★3] x500
36.
56,000
Yellow Gem [★2] x200
100.
1,150,000
Yellow Gem [★3] x500
37.
58,000
Blue Gem [★2] x200
101.
1,200,000
Blue Gem [★3] x500
38.
60,000
Red Gem [★2] x300
102.
1,250,000
HR or Higher Ticket x1
39.
62,500
Green Gem [★2] x300
103.
1,300,000
Red Gem [★3] x500
40.
65,000
Yellow Gem [★2] x300
104.
1,350,000
Green Gem [★3] x500
41.
67,500
Blue Gem [★2] x300
105.
1,400,000
Yellow Gem [★3] x500
42.
70,000
Special Tome [★3] x1
106.
1,450,000
Blue Gem [★3] x500
43.
75,000
Red Gem [★2] x500
107.
1,500,000
Limited Mini Stamina x3
44.
80,000
Green Gem [★2] x500
108.
1,550,000
Red Gem [★3] x750
45.
85,000
Yellow Gem [★2] x500
109.
1,600,000
Green Gem [★3] x750
46.
90,000
Blue Gem [★2] x500
110.
1,650,000
Yellow Gem [★3] x750
47.
95,000
Cash x3,000
111.
1,700,000
Blue Gem [★3] x750
48.
100,000
HR or Higher Ticket x1
112.
1,750,000
Sexy-Scenes Guaranteed Ticket x1
49.
110,000
Red Gem [★2] x1000
113.
1,800,000
Red Gem [★3] x1000
50.
120,000
Green Gem [★2] x1000
114.
1,850,000
Green Gem [★3] x1000
51.
130,000
Yellow Gem [★2] x1000
115.
1,900,000
Yellow Gem [★3] x1000
52.
140,000
Blue Gem [★2] x1000
116.
1,950,000
Blue Gem [★3] x1000
53.
150,000
Special Tome [★3] x2
117.
2,000,000
Special Tome [★3] x1
54.
160,000
Red Gem [★3] x100
118.
Every 50,000
at and after 2,000,000
Cash x5000